The Petals Difference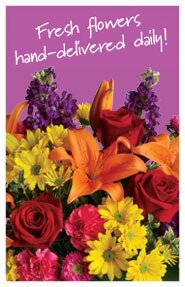 Petals Network has been delivering beautiful fresh flowers to millions of people around the world since 1992, and is the ONLY network to operate in the United Kingdom, Australia and New Zealand from the one location! As a result of our years of experience and personal contact with our customers, we have developed a 3-way-test that is applied to each and every one of our flower deliveries. This test helps us to always make the best delivery possible for our customers and their recipients. It is this 3-way-test that sets Petals apart from our competitors.
The Petals 3-Way-Test
Petals staff ask themselves these questions each time they process an order:
Has every effort been made to assist the customer with any questions or queries about their order either via phone or online?
Are the flowers to be used for the delivery fresh and of a high quality?
Has every effort been made to ensure that the delivered flowers and delivery specifications are asclose to the customer's original order as possible?
It is only when Petals staff can answer 'yes' to all the above that we know our customers will be happy, and that the orders are ready to be processed and delivered.The 'Petals Network Difference' has helped us to win numerous business awards over the years, and we view these as independent verification of our outstanding service.
Deliveries are always from a local florist. This means your flowers will be hand arranged and arrive fresh and beautiful. At Petals, we know that there's a huge difference in having your flowers delivered fresh from a local florist, as opposed to having your flowers sent via post or using a long-distance courier. You can be sure that all orders you place for delivery through Petals won't look tired on arrival, or loosely thrown together in a box where your recipient has to then try and arrange the flowers! The design effect can often be lost if customers have to arrange the flowers themselves. With Petals, your flowers will arrive at their destination as fresh and as crisp as they possibly can be already arranged to be enjoyed.
Petals staff have years and years of experience in helping people with their orders. Petals has always valued the personal customer contact that comes with working in an industry for years. Our staff are extremely experienced in helping people with their orders. Many of our staff members have been with Petals for over a decade. Our staff are so pleasant to talk to - they like the personal contact with customers and genuinely enjoy speaking to people about their orders.
If the person you're sending flowers to isn't there when the flowers are delivered, the Petals florist will either leave a calling card to explain that they tried to deliver the flowers, or will try and get in touch with your recipient via telephone (if the number has been supplied to us). Our florists will only leave the flowers on the doorstep/at reception if it is judged safe to do so by the florist.
Petals Quality Control
'Quality Control' is something that Petals specialises in! Basically this means that the product that is delivered is the best possible representation of the product that was originally ordered. Having our own network means that we are able to very successfully quality-control all deliveries. We offer customers same-day delivery to over 90 countries around the world.
The only difficult part of ordering through Petals is having to choose from such a large product range! Customers can purchase their flowers in several different currencies online or via telephone and can choose from our magnificent range of products. Select from fresh bouquets, arrangements, gift baskets and plants. You'll find something suitable for all tastes and occasions. All online purchases through our websites are fully secured using a McAfee Secure, so you can be sure that all your details are perfectly safe.
We look forward to making 'The Petals Difference' to your next order,
The Petals Team